Vocational Training
From commercial to productive - we offer the right training for every area.
Cutting Mechanic (m/f)
Cutting mechanics are mainly used in mechanical production or gearing at REINTJES. In our large training workshop and in the production, the processing of metal blanks is taught and trained under professional supervision. Starting with simple work to the machining of complex workpieces, the trainees acquire all the skills and knowledge for their later professional life. The training takes place both on conventional, as well as state-of-the-art computer-controlled milling and lathes.
Industrial Mechanic (m/f)
Industrial mechanics at REINTJES are responsible for the assembly of gearboxes and for in-house maintenance work. During the training, the different technologies and approaches are taught. Thus, demanding work can be carried out in later professional practice. Later use as an industrial mechanic in assembly or service includes the know-how and skills to install and maintain gearboxes of all sizes and relevant types.
Industrial Clerk (m/f)
At REINTJES, industrial clerks are trained in a variety of different commercial areas: materials management, production management, finance and human resources. They deal with the preparation, planning, coordination and monitoring of relevant business processes. In material management, these can be, for example, activities of purchasing goods, this includes soliciting and comparing offers and the final processing of order processes.
Technical product designer (m/f)
Technical product designers create technical documents according to the specifications of the designers. Computer-assisted, the trainees learn how to make 3D models, technical drawings, detailed designs and calculations. In addition to this theoretical knowledge, valuable practical knowledge is also imparted. In the training workshop and in production, they train the practical handling of materials and tools and thus learn about production and assembly processes.
Bachelor of Engineering (m/f)
This dual, integrated study program is divided into a basic and a main course of study: In the 2-year undergraduate studies you undergo the training as an industrial mechanic or cutting machine mechanic in our training workshop and production. During this time, you spend three days a week on the farm, one day at the vocational school and study at the Fachhochschule Hannover for two days. In the 3rd year, the main study begins, you study the full week at the FH. During the semester break, you are employed in the company and work on current projects.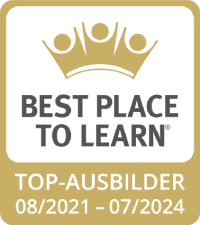 Von Azubis geprüft!
Wir wurden mit Deutschlands Gütesiegel für die betriebliche Ausbildung ausgezeichnet. Diese Krone tragen nur Unternehmen, die junge Menschen nachweislich hervorragend qualifizieren und optimal auf das Berufsleben vorbereiten.
Auf einen Blick
Hier findest Du die Online-Version unserer Informationsbroschüre zur Ausbildung in unserem Unternehmen.
You might also be interested in